It Could Be You - Sunday Times 1998
Abundance therapy aims to help us get everything we've ever wanted. What more could you ask for, says EMMA MARLIN
What do you want more of? Money? Love? Happiness? Whatever it is you can have it. And not just at Christmas. With a little abundance therapy under you belt, you can learn to manifest everything you've ever wanted. And more. There is only one catch — you have to be ready to receive it.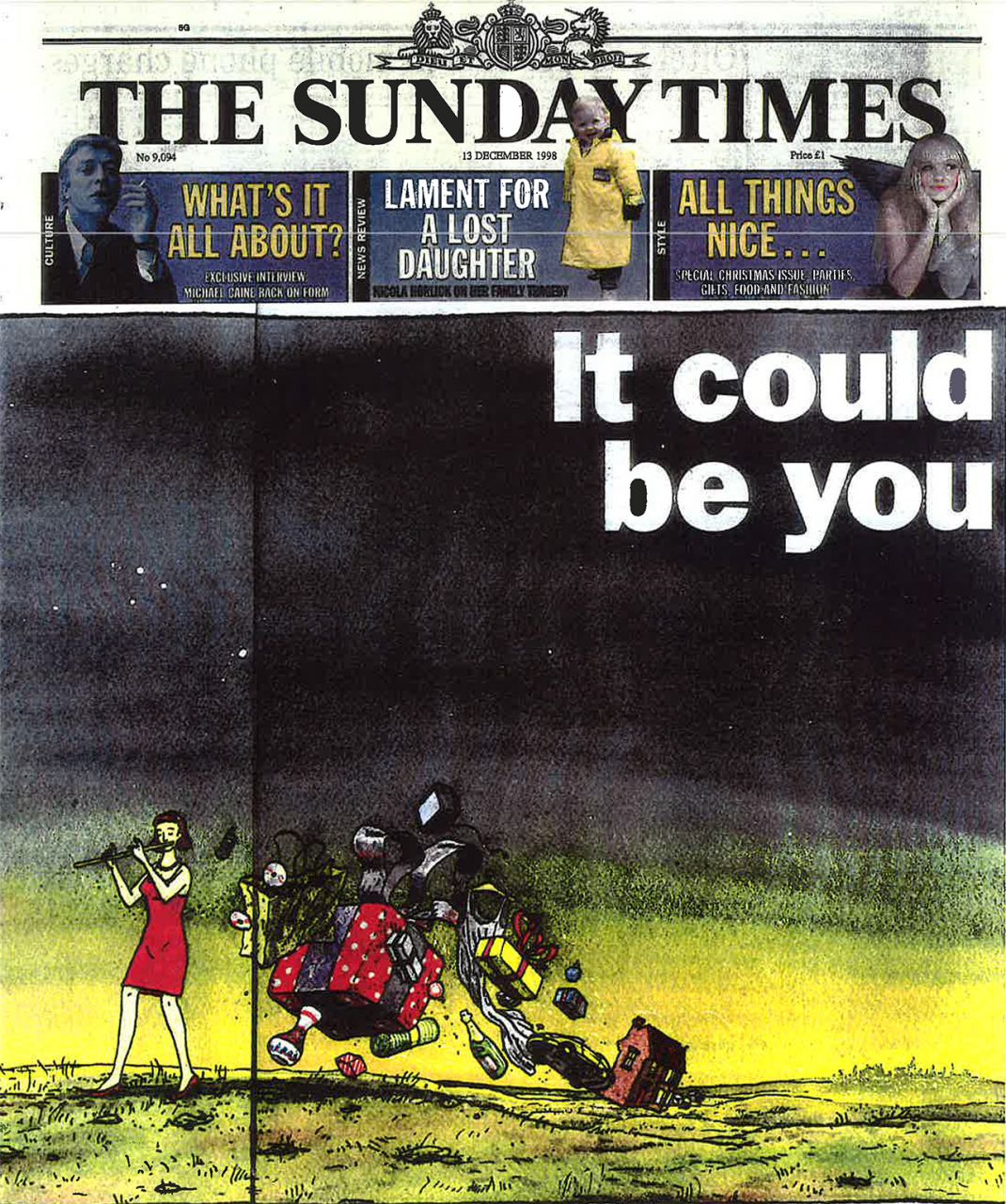 "Most people have hidden beliefs that stop them getting what they want," says the prosperity therapist Brandon Bays. "The abundance therapy process is designed to switch on a light to help you discover what these beliefs are and how they've been unconsciously sabotaging your life and your bank account."
Abundance therapy hails from America, where the concept that you have the right to as much money, love and career success as you can stomach is almost etched into the constitution. But now abundance workshops have arrived in the UK and people are jumping at the chance to rebalance their credit rating.
Bays normally gives three-day workshops on the subject of manifesting abundance because "opening up to receiving isn't always an overnight process". However, as I didn't have the abundance of free weekends, Bays, an American-born mind and body therapist, agreed to condense her prosperity process into one afternoon.
Like most women I know, I would like to be able to buy that Christmas party dress from Harvey Nichols, rather than just look at it. But could a few hours locked away in an abundance mini-workshop change the course of my overdraft? I owed it to my bank manager to find out.
"Most people have had the experience of asking for what they want, but only managing to manifest less than a third of it," says Bays. "The reason is because we all walk around with limiting beliefs that are holding us back from manifesting or receiving the rest. And I'm not just talking about money now. I'm talking about all the things we crave more of — love, career success, even time."
After a relaxing, guided meditation, Bays asked me to imagine myself in a variety of scenarios. In one, I had to imagine a close friend was offering me a generous Christmas gift. I was asked what value of gift I was comfortable receiving. Bays then asked me to triple the price tag and honestly say how I'd feel about accepting the same gift.
The 15 or so scenarios presented to me left no area of my life or attitudes to "abundance" unexplored. In some, I was going for the job of a lifetime. In others, designed to measure my ability to "hold on" to money, I was asked how much I would be willing to invest in my own career and set aside for the future. Finally, I had to imagine picking up the bill for a budget-blowing dinner with my dream date, Jarvis Cocker.
After each scenario, I was asked to step outside my "comfort zone" (ie, what instinctively felt acceptable) and describe my feelings. When I looked over my answer sheets at the end of this hour-and-a-half process, I was stunned. Not only did I feel extremely anxious about receiving anything, my responses suggested I was angry about having to put money away for my future — marrying it seemed much easier. When it came to the questions about letting go, the words "tight" and "arse" swerved firmly into view.
According to Bays, who sensed my deflating self-worth, these were the unconscious beliefs sabotaging my shopping trips to Harvey Nichols. "You've probably had no idea that these insecurities are operating in your life. But now, hopefully, it is clear that you have been out there trying to make more money, but deep down you've been afraid of what k of person you'd turn into if you really did have enough to buy everything you wanted."
Thankfully, the next part of the process was designed to help em find out where these self-limiting beliefs came from. "I want to access the things your parents, teachers and peers taught you about money and what you deserve in this life," said Bays.
Again, I was taken on another guided "journey" — it wasn't hypnotism, yet I quickly found myself returning to a time in my early life that I would never have connected to abundance.
First came the memory of a traumatic car accident. Though I was lucky to survive, my 12-year-old mind decided I was unlucky to have endured the crash and the facial scarring that resulted. I then realised that I had taken on another belief widely advertised in our family, that only lucky people — those born to money, or those who win it — can ever really enjoy the good things in life. The rest of us have to struggle.
Bays then took me through a process to help me let go of these old limiting patterns. When I finally emerged some five hours after starting, I felt strangely unemotional. There were no tears or hysterics, just an understanding of the part of me that had believed she was unlucky.
At this point I was encouraged to write down what I really wanted in my life and was given practical tips on how to start realising my wishes. These were things such as remembering to be grateful for what you have right now, a warning about being careful what you ask for (because you may just get it), and a reminder that you need to take practical steps towards manifesting your desires.
Bays is insistent on this last point. "It's no good just asking for money or a soul mate — you need to get to the core of what the money would buy or what the love would give you and be willing to take the actions necessary to participate in manifesting it."
As I left her house that night I wasn't sure what to make of the hidden beliefs I'd uncovered and supposedly resolved. But in the days that followed strange things started happening. Cheques arrived for work I thought I'd never be paid for, a trip to a casino netted £300 in an hour. I have developed amazing powers of "manifesting" black cabs in Oxford Street. These may seem little things, but they've made me believe that when the bigger things I've finally had the courage to ask for come, I'll be ready.